Ozark, MO
EMERGENCIES | REPAIRS | INSTALLATIONS
THERE WHEN YOU NEED US
Expert HVAC services for emergencies and the everyday. Servicing the Ozark's and surrounding areas.
Ash Grove
Billings
Bois D Arc
Branson West
Branson
Branson
Brookline
Bruner
Chadwick
Chestnutridge
Clever
Crane
Diggins
Fair Grove
Fordland
Forsyth
Galena
Garrison
Halltown
Highlandville
Hollister
Hollister
Hurley
Kimberling City
Kirbyville
Marionville
Nixa
Oldfield
Ozark
Point Lookout
Ponce De Leon
Powersite
Reeds Spring
Republic
Rockaway Beach
Rogersville
Seymour
Sparta
Spokane
Springfield
Springfield
Springfield
Springfield
Strafford
Taneyville
Turners
Walnut Shade
Willard
LOCALLY OWNED & OPERATED
Welcome to Heating & Air Paramedics! We're David and Kelly Pridgen, and you may have previously known us for the past 18 years as Ozark Heating & Air.
We recently joined Heating & Air Paramedics as a franchisee because we see them sharing the same values we hold dear: To always be honest and provide the best service experience possible to our community. Heating & Air Paramedics allows us to grow as a local company and provide the support for both our technicians and community.
A little bit about our family: We have two daughters, Brooke and Bailey. Brooke is a recent graduate of the University of Arkansas and is working as a real estate appraiser. Our son in law, Andy also works in the family business as our lead technician. Bailey, our younger daughter is a freshman at the University of Missouri in Columbia. We are a close-knit family and are proud to have raised our girls in Ozark. Let our family protect yours from both the heat and the cold.
David and Kelly Pridgen
OWNERS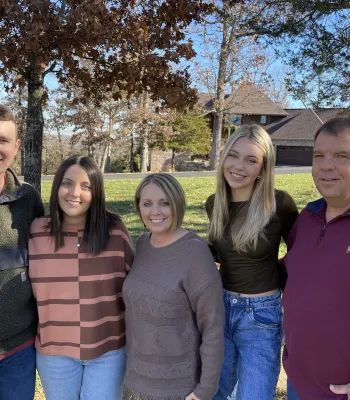 FINANCING AVAILABLE
Buy now and pay over time.
Get started by applying for financing, issued with approved credit by PowerPay.
Air Conditioning Services
Repairs
We understand summers can be smoldering, so we offer quick and effective air conditioner repair services. A broken air conditioner in August can be dangerous and uncomfortable. We offer residential air conditioner repairs and maintenance for all makes and models.
Maintenance
Routine air conditioning maintenance helps prolong the lifespan of your system and helps lower your monthly energy costs. A well-maintained air conditioner operates more effectively and experiences fewer problems, offering peace of mind. Make an appointment with us as soon as possible for regular maintenance to ensure that your air conditioner will continuously operate quietly and effectively.
Installations
Beat the heat this summer with a new air conditioner installed by our team of trained professionals. We will be there for you at every step of the process, from selecting the best air conditioner for you through final installation and instructions on how to operate your air conditioner. When the time comes that you require a new system, give Heating + Air Paramedics a call for a free in-home evaluation.
Heating Solutions
With years of expertise keeping clients warm throughout the winter months, our heating professionals can assist. We offer all the heating services required to maintain year-round comfort in your home.
Repairs
If your heating system breaks in the middle of winter, we're here for you. Our heating repair specialists are prompt and cost-effective. We will work to get you and your family back to warm and cozy. Our heating repair specialists maintain all brands and models of furnaces and heat pumps.
Maintenance
You can ensure that your heat pump or furnace is continually operating correctly by giving it routine maintenance and tune-ups. Our regular heating maintenance service helps avoid expensive repairs, malfunctions, and replacements. Your furnace will operate more effectively, resulting in monthly energy savings.
Installations
Our skilled furnace installation team is here for your heating needs. There are multiple options for your furnace, so our qualified technicians will help you choose the best furnace for your needs. Our professional team will carefully install your furnace and guide you through the functional features.
Air Quality

According to the Environmental Protection Agency (EPA), poor indoor air quality is an issue because of its possible harm to people's health. This is crucial for those with compromised immune systems, those who suffer from skin and respiratory conditions, and the sick, aged, and young. Your family will benefit from a cleaner, cozier environment if you change your home's indoor air quality.
Request a Quote
Let us know how we can help.
Whether you're ready to schedule an HVAC installation, repair, or just have questions about our services, we're here to help. Request service and a member of our team will contact you to verify your appointment.
SOLUTION SEEKERS, NOT SALESPEOPLE

The Heating + Air Paramedics team offers heating, cooling, and air quality services in Ozark, Missouri, and the surrounding areas. Our expert HVAC installs, repairs, replacements, and routine maintenance checks help you get the most out of your system. Learn more about our services and how they may reduce your monthly energy costs while assisting in creating a more pleasant indoor environment.
Local homes and offices choose our reliable, locally owned and operated HVAC company. We have solutions available to meet the unique demands of your home or office. Contact us and book your next service with the Heating + Air Paramedics today for professional heating and cooling services.
There When It Counts

Committed to Excellence

Same Day Service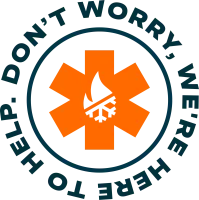 WHY HOMEOWNERS CHOOSE HEATING + AIR PARAMEDICS
My husband was home and said they were very professional, knew what they were doing and made some really good recommendations. We would highly recommend them to anyone looking to have their AC serviced. It went great. Above our expectations. Would highly recommend.
L. PARRISH
They were excellent and I would definitely recommend them. They had it accomplished easily within that one hour and everything was done completely correctly and it has functioned perfectly ever since.
G. SPITTAL
I have been very pleased with their service. They are extremely thorough; more so than any other company I've dealt with.
MARVIN R.
Discover A Career To Excel At
With training, licensing, and certification opportunities, you'll find yourself advancing fast with Heating + Air Paramedics.