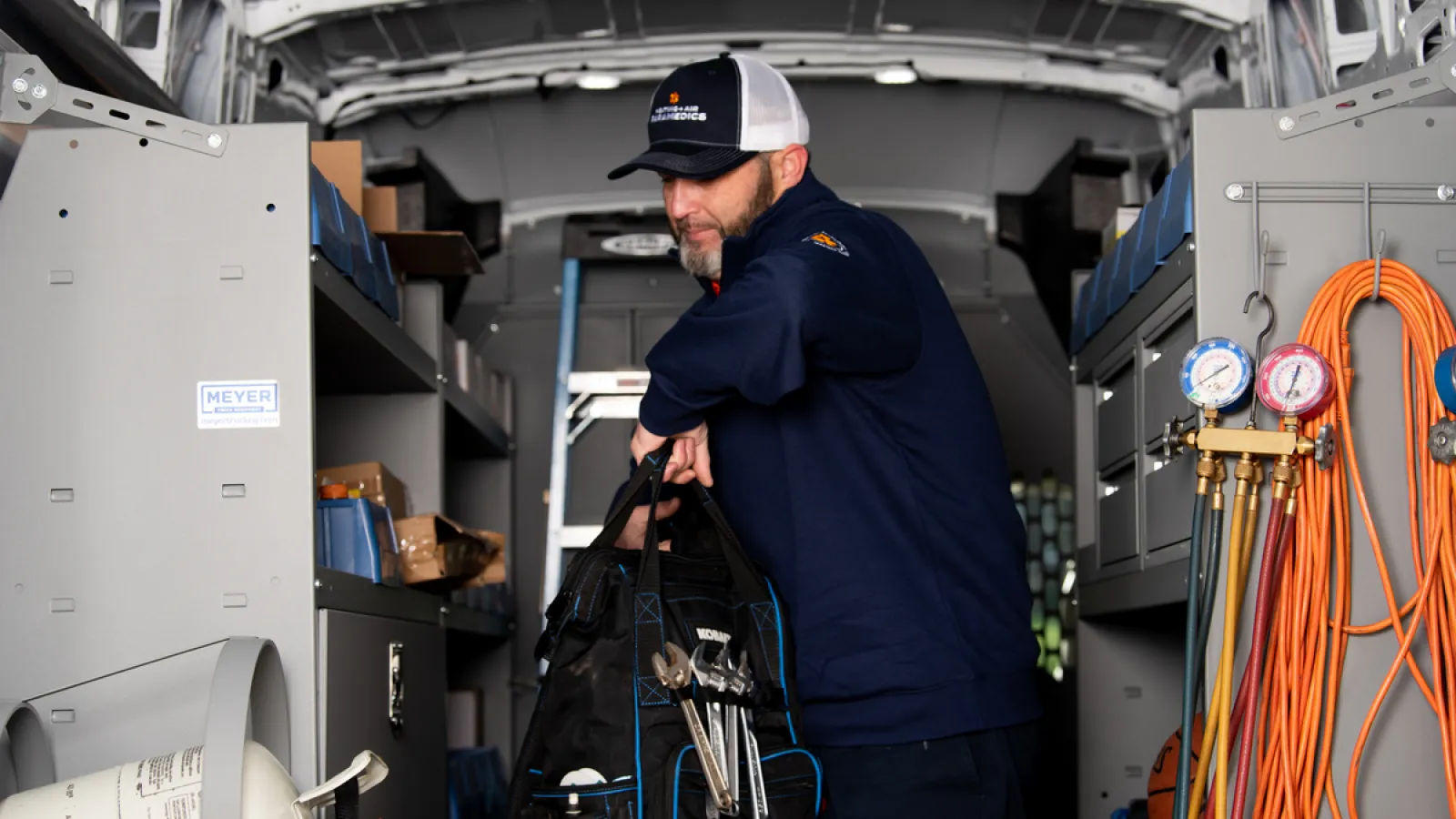 Ductless Heating & Air Systems
Ductless Heating & Air Systems
We Provide Premier Ductless Systems Services
Heating + Air Paramedics provides ductless heating and air system services. When you're in the service area of one of our franchise locations, we've got you covered. If you're looking into installing a ductless air system in your home or business, look no further than the professional team at Heating + Air Paramedics. Our team is highly skilled in installing and repairing these systems. Add comfort to newly finished spaces and new home additions with a remote-controlled, indoor ductless heating or air system today.
What Are Ductless Heating & Air Systems?
Ductless systems, also known as mini-split systems, don't need the connective ductwork you often associate with HVAC systems. Ductless heating and air systems are designed to deliver warm or cool air to either a single room or several rooms across your home. That makes these heating and air systems optimal for room additions, such as sunrooms or garages.How Does a Ductless Heating & Air System Work?
A ductless heating and air system doesn't need ducts for air distribution. Depending on the model, the main unit is a heat pump or an air conditioner. The main exterior unit is connected to individual air handlers inside, which distribute air directly into the area they serve. One of our skilled technicians will install the air handlers and connect them to the exterior unit through a line set. Refrigerant line sets run through a small hole in the exterior wall. Because there's only a small hole required to connect lines, new ductless units relieve many security and aesthetic concerns of the old window units. Homeowners control their air quality via the system's air handler. A single home can have multiple air handlers connected to one system, which allows for zoned heating and cooling, where heating and air conditioning are controlled independently of each other.
The Advantages Ductless Systems Offer
Ductless systems offer users a wide variety of advantages. In homes or businesses without adequate space or existing ductwork, a ductless system is an excellent option. Not only can these systems provide the same level of comfort as a central heating, ventilation, and air conditioning (HVAC) system, but they can even produce higher energy efficiency. Additional advantages of these systems include:
· Zoned Heating & Cooling - Zoned heating and cooling allows occupants to set temperatures according to their preferences. This type of heating and cooling system also allows energy to be conserved when a room is not occupied, as you can turn the flow of that room off while other rooms are still running. These systems also distribute conditioned air more evenly versus central HVAC systems for improved comfort in each zone.
· Highly-Efficient Heating & Cooling - Ductless systems boast high energy-efficiency levels. Heat pump systems offer both heating and cooling, allowing a savings on energy costs throughout the year. A ductless system can save anywhere up to 30 to 50 percent on utility costs.
· Improved Air Quality - Because they are separate from a ductwork system, there's no circulation of indoor pollutants from other rooms. To help keep your air quality high, it's important you have the unit checked routinely and change the air filter regularly to keep the air filtered well.
Contact Us Today for Ductless Heating & Air Systems
At Heating + Air Paramedics, we are dedicated to providing local, high-quality heating and air conditioning services, including ductless heating and air systems services. Your comfort is of the utmost priority to our technicians. Contact us today to learn more or request a service. We look forward to serving your heating- and air-related needs.